Maui Vista 2408 - 2 bedroom condo (sleeps 4)
deluxe 2 Bedroom top floor unit with Ocean View
875 sq. ft. Sleeps 4. Bedrooms 2. Bathrooms 2. Minimum stay 4 nights. Minimum stay during Peak Season 10 nights.
Premium upgrades, superior furnishings & charming decor make this condo a comfortable place to settle while on Maui. This vacation condo is so much more than just a place to sleep and cook, it will be your home away from home. Have breakfast on the lanai, take in the ocean view as you prepare for another day in paradise. Whatever adventures await, you'll be able to relax and recharge when you return. The main living area has vaulted wood ceilings, giving it a spacious, open feel. The plush couch is an excellent place to read, lounge or watch a favorite show on the large, flat screen TV. You can enjoy the refreshing ocean breeze or indulge yourself with quick cooling A/C. The sunset views from your private lanai are stunning. The kitchen is beautiful and well equipped with all major appliances, essential cook/dining ware and utensils. Upgrades in the kitchen include; new cabinets, granite counters, under cabinet lighting and contemporary appliances. The main floor bedroom offers a queen sized bed and ample storage. The downstairs bathroom features a stylish walk-in tile & etched glass shower and granite topped vanity. The second bedroom and attached bathroom are located upstairs in the loft. A generous king bed is the focus of this light and cheerful bedroom. Splashes of color and coordinated accents add to the delightful ambiance of this appealing vacation home.
FREE: Wi-fi, in-unit laundry, parking and long distance calling within United States and Canada are offered for your convenience.
Guest beach supplies; four beach chairs, four beach towels and a beach umbrella for guest use.
There are 3 pools, 6 tennis courts and 3 BBQ Areas on property.
This unit has a maximum occupancy of 4.
The minimum stay is 4 nights, except from Dec 15 - Jan 5, when the stay minimum stay is 10 nights.
Guest must register with front office to receive parking permit. If you arrive after 4 pm or on the weekend, the office will be closed. Please go to the Maui Vista office located on ground floor of building 1. There is a phone outside the office, to contact security. Security can issue a temporary parking pass.
This is a top (4th) floor unit, accessible by elevator or stairs, in building #2.
There is an indoor, one story stairway to the loft bedroom and bathroom.
Maui Vista is conveniently located in central Kihei. Beaches, shops, and restaurants are within walking distance. Charley Young Beach is just across the street. You can walk from Charley Young along the beach all the way to Wailea.
Kihei is very relaxed, diverse community. Many local residents live here. Condos offer the majority of vacation accommodations here. Large resorts and hotels are located in nearby Wailea and to the west in Lahaina and Ka'anapali.
If guests are content to stay in Kihei area, there's no need to rent a car. There are shuttles available from the airport. Once here, Kihei has moped, bike rentals and some local shuttle services as well as the Maui bus for $1-2.
When booking, ask our on island reservations agents about local Maui favorites for dining, sightseeing and activities. We're familiar with Maui and happy to help make your vacation memorable. Guests can ask us about local favorites & recommendations for dining and activities.
Other things to note:
This unit has a main floor enclosed bedroom and an open loft bedroom.

Please read through the condo book upon arrival, it has rules and regulations for the property.

A starter supply of toilet paper, paper towels, soap, detergent are provided for your convenience. It is your responsibility to replenish items for the remainder of your stay.

Quiet hours are 10 pm- 8 am.

No items can be hung on lanai.

No wet/damp items on furniture.

No sunscreen/lotion/self tanner allowed on furniture, linens or towels.

No animals allowed in unit - can result in a fine or eviction.

No smoking in unit, or on lanai- $250 fine +$500 smoke removal treatment for unit. Smoking is allowed ONLY in designated smoking areas on property

Hawaii Tax ID #: 118-592-1024-01
Video of maui vista 2408
Reviews of MAUI VISTA 2408
Ryan, August 2019
Perfect for two couples/family. Across the road from a really nice beach and super close to several others. Lots of dining/amenities close by. Good kitchen with everything you need as well. Thank you for sorting out the kettle for my parents!
Yasmin, June2019
Great location, sparkling clean, great amenities - kitchen, dishwasher, washing machine etc. pool downstairs was lovely. Turtle beach just down the road was a real highlight for us. Aircon would turn off after 4 hours which was a little niggly overnight but not a real issue. Would definitely stay again :)
Michelle, June 2019
Amazing place all around. The location is great for 5 min walk to a calm and clear beach, short distance to excursions on the docks or kayaks, and the aquarium. Lots of food, grocery, and other beaches within walking distance as well. Place was quiet and peaceful at night. Spectacular view outside, could see the ocean. One can not underestimate the usefulness of two full bathrooms with multiple family members! Place was super clean, and airy.
Curtis, June 2019
Perfect location and very clean and comfortable. Great host with fast communication too!
Sue, February/March 2019
The condo is located in an ideal location with everything you need for an extended stay. Very helpful and responsive management company. Great value for the price. We had a great time. Really enjoyed the condo. View was great and even saw whales! So happy to have found your unit. Thank you for making our stay enjoyable, safe and convenient.
Lauren, January 2019
This condo has everything you need for a great time in Maui. Good location, nice condo complex, quiet, well equipped with home amenities and beach gear. My husband and I took the loft bedroom, which was so cozy and very private feeling. Everything was great!
Erik, December 2018
Aloha! Excellent location, just a 3 minute walk to the beach. Great place to stay, clean, easy parking, short walking distance to restaurants, shops, parks, food trucks. The first person we saw at the property was the parking security guard and he was very helpful getting us a parking permit and directions to our unit. We really felt the aloha spirit which was great after a long day of traveling. We would definitely come back. Thank you for the nice note and pineapple! Mahalo!
Celine, December 2018
Great stay in a beautiful convenient location! We had a great stay! Thank you for the pineapple and welcome note.
Charlene, December 2018
Great location in Kihei. Condo has everything you need for the beach. Nice place to watch the sunset! Thanks for letting us enjoy your beautiful place. We appreciated the new umbrella! Hope to stay with you again.
Debra, November 2018
This place is in a great location, is very clean and has an ocean view. It's perfect for up to four people. We were pleasantly surprised to find a delicious pineapple waiting for us after a long day of flying. We will definitely stay there again if we ever get to return to Maui.
Sven, October 2018
Great and comfortable place as shown in pictures. Location is central in Kihei which worked great for my stay. Check in is easy and uncomplicated. Great value add is the provided beach equipment including chairs (4), umbrella, beach mats, and cooling box. May be a bit hot at times in the apartment with one AC unit only but did not bother at all with the nice ocean breeze coming through. Would definitely recommend!
Julien, October 2018
Great location overall! This condo is only a short walk away from the beach and tons of amazing restaurants. The host is very easy to reach by phone and/or email and responds in a matter of minutes. There was an issue with water leaking from the rooftop through the upstairs bathroom during substantial rain. However, the host took great care of it and contacted the appropriate crews to fix it.
Ferdz, September 2018
The location and the view from the condo was so nice. We'd always like to hang out every morning on the balcony because the views are amazingly great. The condo was very spacious, our kids have plenty of room to play. The kitchen was really nice and clean, you'll get a very good view of the ocean when cooking. Overall our stay was relax and my family were very satisfied about this place. When we come back to maui, we would definitely rent this place again.
Dan, August 2018
As advertised, which I always appreciate! Nice walking proximity to great beach options, grocery, shops and dining options. Definitely recommend for Kihei area!
Mark, August 2018
We had a really great time staying here. The location is really handy - checkout the great beach across the road! Also nearby to restaurants / bars / supermarket / etc.
Eric, July 2018
Maui Vista was great. Top notch room. great property. Great location. Would stay again.
Richard, July 2018
this place was everything as advertised exactly with a view of the ocean from the Lanai and it is very safe and secure and walking distance to the beach like a block away beautiful
Nerissa, June 2018
What a wonderful place to call home base during our family Maui getaway! This place was perfect from the comfortable "like home" space, to the central location to the beautiful lanai view to all of the amenities available to us. We loved being in Kihei which is centrally located to all places we wanted to visit on the island. Nothing was crazy far to drive to. We were away from the heavy tourist resort crowd but not secluded either. This condo is close (easy walk) to beach action, cool restaurants (Kihei Caffe has the best breakfast ever!) , grocery stores, convenience stores, surf shop/lessons, Wailea mall shopping (10 min drive) just overall comfortable and convenient! We loved how this condo was not only cozy and comfortable (beds and sheets so comfortable allowed for a great nights sleep after busy days of adventuring) but it was stocked with extra things we forgot to bring like beach towels, lysol wipes, laundry detergent even Lubriderm lotion!!!! Very thoughtful! Julie at Maui Roost was very pleasant, on point and made checking in super easy. Loved this space and would recommend to anyone! Aloha and Mahalo! XO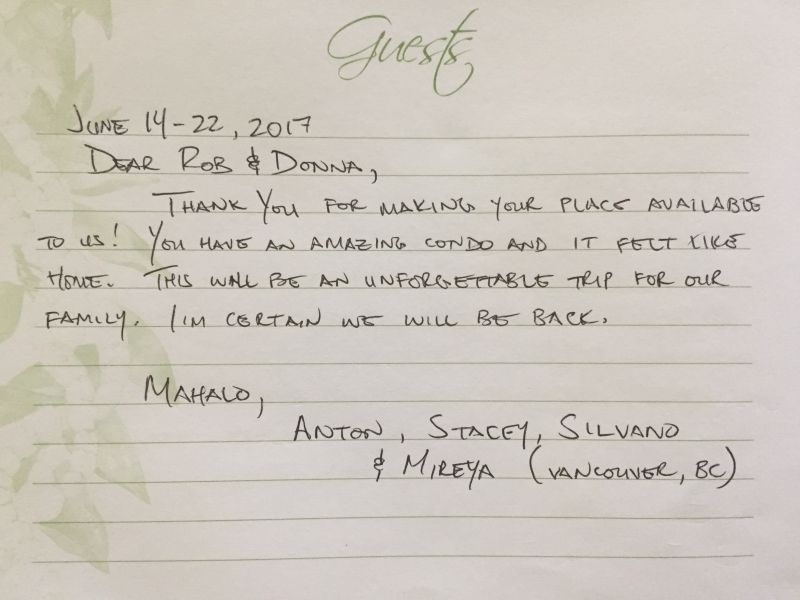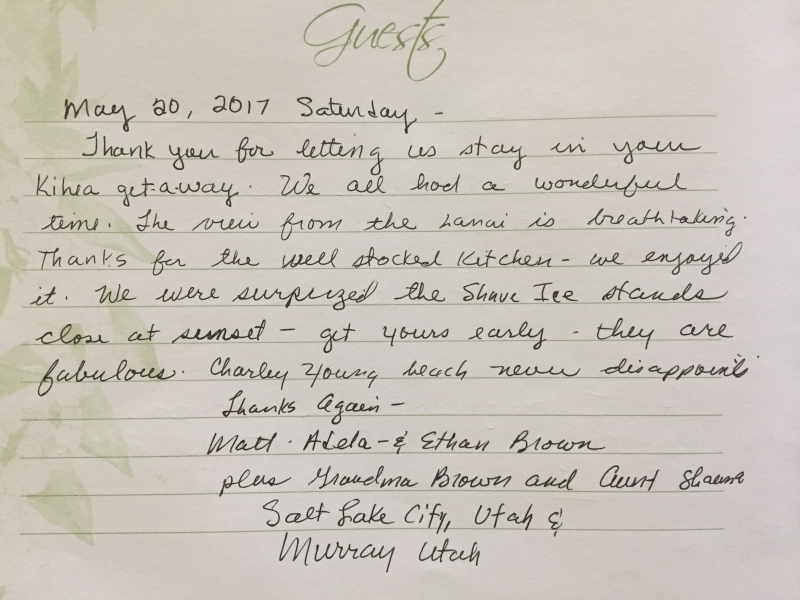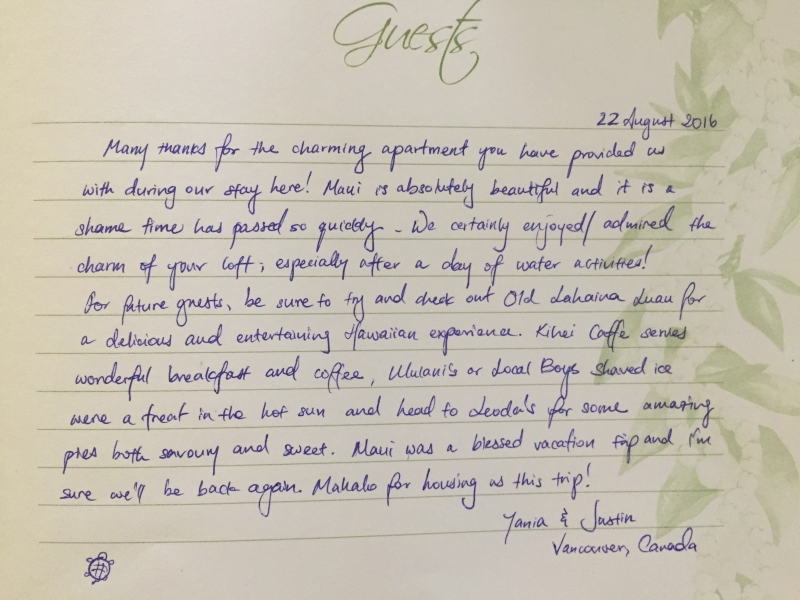 SUBMIT A REVIEW FOR MAUI VISTA 2408!
AVAILABILITY & BOOKING CALENDAR
CONTACT US ABOUT MAUI VISTA 2408
Questions about this property? Fill out the form below and a Maui Roost representative will reply to your inquiry within 24 hours.