Maui Vista 2310 - 1 bedroom condo (sleeps 2)
Exceptional, Fully Remodeled 1 BR/1 BA w/Private Lanai & Ocean View
590 sq. ft. Sleeps 2. Bedrooms 1. Bathrooms 1. Minimum stay 4 nights. Minimum stay during Peak Season (Dec 15 - Jan 5) 10 nights.
Your dream vacation starts here. This unit is fully renovated with exceptional decor and amenities, truly giving you the feeling of home away from home. Hard-surface wood floors throughout and tile in the bathroom are attractive, and cooling. The living room features a cozy couch, a/c wall unit and a large HD TV with Bose surround sound. If you're looking to save money by preparing a few meals at home, this fully equipped, upscale kitchen has everything you need. The open, "great room" design lets you stay involved with family and friends while you assemble meals. The stylish bath features a beautiful tile and glass, walk-in shower. Tile flooring and vanity top with decorative tile accents complete the modern bathroom.
When it's time for bed, you'll be welcomed by a firm, queen sized Beautyrest Black mattress."The Beautyrest Black mattress is where technology and luxury intertwine. Discover sleep as the ultimate luxury."
Local artwork and complementary details emphasize the ambiance of this attractive and peaceful home.
Free: in-unit, full size laundry, wi-fi, parking and long distance calling within US & Canada are offered for your convenience.
Guest Beach Supplies: two beach chairs, two beach towels and a beach umbrella
Maui vista offers three pools, three gas grill BBQ area and six tennis courts.
This unit has a maximum occupancy of 2.
The minimum stay is 4 nights, except from Dec 15 - Jan 5, when the stay minimum stay is 10 nights.
Guest must register with front office to receive parking permit. If you arrive after 4 pm or on the weekend, the office will be closed. Please go to the Maui Vista office located on ground floor of building 1. There is a phone outside the office, to contact security. Security can issue a temporary parking pass.
This is a 3rd floor unit, accessible by elevator or stairs, located in building #2.
This complex is a conveniently located to explore Kihei. Charley Young Beach is just across the street, The Cove is a short walk and you can stroll down Kamaole Beach I,II & III, they are all connected. You can walk along the beach all the way to Wailea. There are several shops and restaurants within walking distance.
Kihei is very relaxed, diverse community. Many local residents live here. Condos offer the majority of vacation accommodations here. Large resorts and hotels are located in nearby Wailea and to the west in Lahaina and Ka'anapali.
If guests are content to stay in Kihei area, there's no need to rent a car. There are shuttles available from the airport. Once here, Kihei has moped, bike rentals and some local shuttle services as well as the Maui bus for $1-2.
When booking, ask our on island reservations agents about local Maui favorites for dining, sightseeing and activities. We're familiar with Maui and happy to help make your vacation memorable. Guests can ask us about local favorites & recommendations for dining and activities.
Other things to note:
Please read through the condo book upon arrival, it has rules and regulations for the property.

A starter supply of toilet paper, paper towels, soap, detergent are provided for your convenience. It is your responsibility to replenish items for the remainder of your stay.

Quiet hours are 10 pm- 8 am.

No items can be hung on lanai.

No wet/damp items on furniture.

No sunscreen/lotion/self tanner allowed on furniture, linens or towels.

No animals allowed in unit - can result in a fine or eviction.

No smoking in unit, or on lanai- $250 fine +$500 smoke removal treatment for unit. Smoking is allowed ONLY in designated smoking areas on property

Hawaii Tax ID #: 192-403 8656-01
Video of maui vista 2310
Reviews of MAUI VISTA 2310
Jonny, September 2019
Amazing place!
Luis, August 2019
Maui Vista 2191 South Kihei Road Best vacation experience ever. The apartment with ocean view was clean and had every amenity needed to enjoy our week long stay. The facilities at Maui Vista were superb. The pools, garden, walkways, barbeque were an extra element that made our experience wonderful. The management team at Maui Roost, Julie was very supportive and responded to our questions quickly and professionally. Security officials at Maui Vista were friendly and helpful. RW provided a one hour introduction to tourist planning day trips and events such as the Marriott's famous Luau and arranging tickets and providing advice on saving money. We will positively return.
Daniel, August 2019
Hello, My wife and I went to Maui (Kihei) for our 10th year anniversary and we really enjoyed our stay there. Apt. was very clean and was located in great area. Apt. came with beach chairs, a beach umbrella, a cooler and a boogie board for us to use during the day, which was great! Apt. also had pools and a BBQ area available to our convenience. Checin was fast and easy and host communication went super fast. We would definitely come back again! We loved that you gave us an hawaiian prayer for our 10th anniversary!
Rodolfo, August 2019
Julie's place has everything you need to make you feel like being at home, amazing hospitality, her place is clean, with excellent amenities. She provides all you will need to spend a relaxing day on the beach, such as beach towels, chairs, umbrella, coolers, etc...also is very convenient located, close to beaches, restaurants, groceries stores. Easy check in/out and quick response in all your inquires. We highly recommend her place.
Patrick, July/August 2019
Great location! Everything went perfectly!!
Guangyu, July 2019
super close to the beach and it has everything we need
Yidi, July 2019
We have a great time there. Will come back next time.
Kristina, April 2019
Julie's apartment is clean, well-kept, in a GREAT location (a one minute walk to the beach) and definitely more affordable than other accommodations I saw in Maui. She was also very quick to respond to any and all issues. 10/10 would recommend to anyone looking for a homey place to stay on the island!
Katy, April 2019
Great stay! It wasn't expected, but we even had a bonus boogie board, sun hats, and the kitchen was even stocked with basic cooking oils, teas, and coffee. I didn't get the impression these were guaranteed items, but we were definitely grateful!
Mike, March 2019
Clean and well located condo equipped per the description perfect for vacationing couple.
Juliana, December 2018
We had a great stay! The place was very clean and well equipped with microwave, toaster, blender, towels, washer and dryer, beach chairs and umbrella. Unfortunately we did not look under the bed until the last day and we found more beach stuff there. Great location, walking distance to the beach, restaurants and shops. One tip, have a plan for your luggage if your flight is later in the afternoon since check out is at 11am.
Chris, September 2018
Great place! Fantastic location! The path to the beach is literally across the street. 15 minute walk either direction you'll find everything you need. The condo has everything you need in the kitchen and for the beach. Tip, look under the bed! We didn't think to look here so we missed a few things. The condo is beautifully decorated! It feels very homey and just like a Maui home! The lanai is a nice size! We enjoyed our early morning coffees everyday in 26 degrees Celsius. You can see the ocean from it too! Maui Roost is a very pleasant host! We arrived to a fresh Maui gold pineapple and welcome note! We had the chance to meet them. They were very nice and had great suggestions for things to do locally. We will definitely consider staying here again! One more thing, talk to the locals. You will learn a lot about what to do and where to go and what not to waste your money on. John Webby was a fantastic concierge located right beside Moose Mcgillycuddy's. Talk to him! Aloha and Mahalo!
Alice, August 2018
Everything was perfect! Very clean, absolutely beautiful and in a perfect position! Absolutely recommended!
Tim & Karen, July 2018
Great place to stay! Beautiful condo. Great location. We would definitely stay again.
Jonathan, July 2018
We had a great stay at Maui Vista! The unit was very clean and nicely decorated. Well equipped with lots of kitchen implements (microwave, toaster, blender), plenty of towels and an en suite washer and dryer. The location in Kihei was amazing with a short walk to shopping, restaurants, and of course the beach. We would definitely stay here again.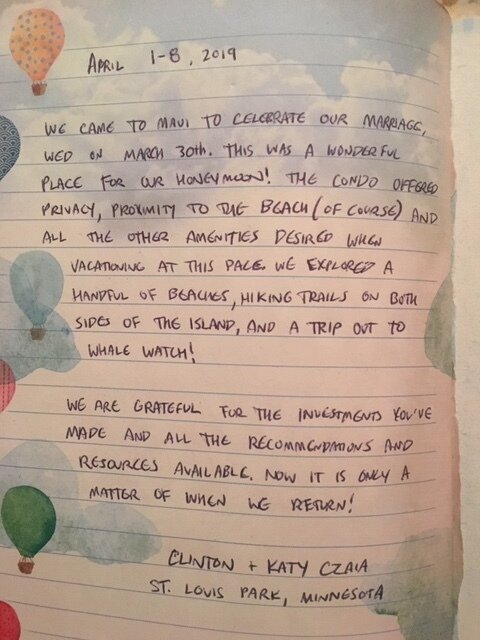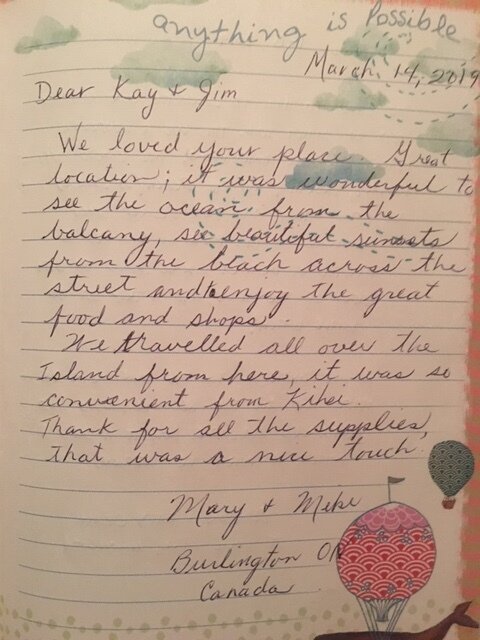 SUBMIT A REVIEW FOR MAUI VISTA 2310!
AVAILABILITY & BOOKING CALENDAR
CONTACT US ABOUT MAUI VISTA 2310
Questions about this property? Fill out the form below and a Maui Roost representative will reply to your inquiry within 24 hours.